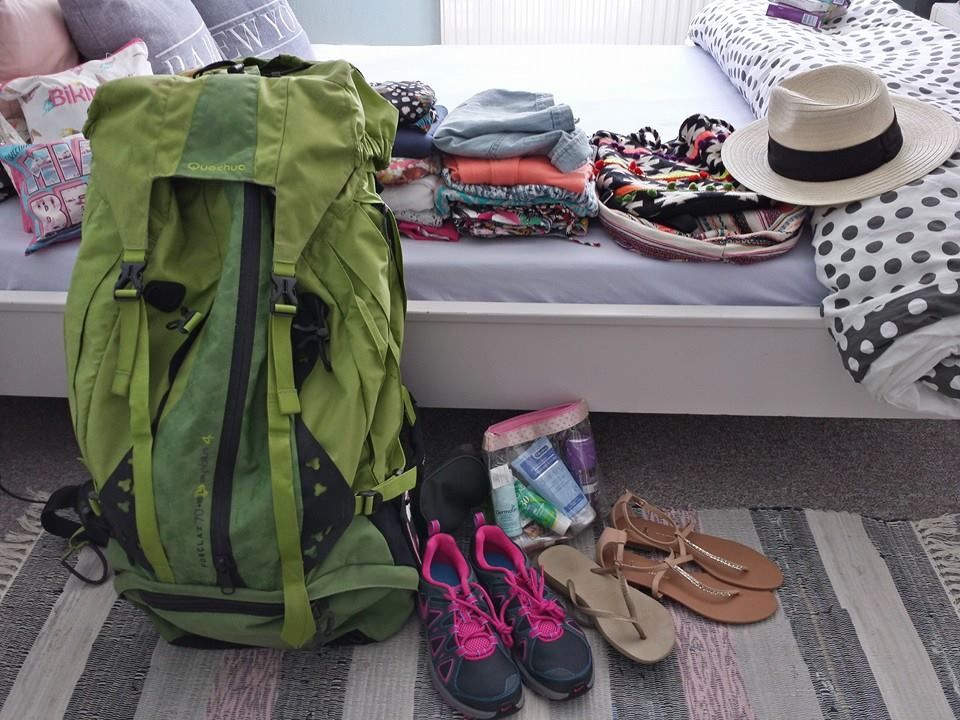 Hi allemaal,

Vandaag, over slechts een paar uur, pakken mijn vriend en ik het vliegtuig richting Bangkok of Kuala Lumpur, ligt eraan op welke vlucht we meekomen. We gaan drie weken rondreizen en op ons lijstje staan Laos, Cambodja en Thailand. Aangezien we vorig jaar al hebben rondgereist door Thailand zullen we dit jaar slechts alleen naar het strand gaan, omdat we het meest van het binnenland al hebben gezien.

Mijn vriend en ik hebben erg lang uitgekeken naar deze vakantie aangezien we al maanden achter elkaar hard hebben gewerkt. Daarom heb ik ook besloten om vanuit onze vakantie NIET te gaan bloggen. Maar ik laat jullie uiteraard niet helemaal alleen achter; ik heb flink wat posts gemaakt welke om de twee dagen online zullen komen, zodat jullie je niet hoeven te vervelen terwijl ik op vakantie ben. En uiteraard zal ik na mijn vakantie meer dan genoeg posts eraan wijden en wellicht ga ik zelfs vloggen.

English translation
Hi everyone!

Today, in just a few hours from now, the boy and I are taking the plane to Bangkok or Kuala Lumpur. We'll be traveling for three weeks and on our list will be Laos, Cambodja and Thailand. Since we've already been to Thailand last year, we decided to only go to the Thai beaches this year, as we've seen most of the countryside.

Since the boy and I really need this holiday after months of working really hard, I decided NOT to blog whilst being abroad. But ofcourse I can't leave you guys without anything; every two days there will be a brand new post online so you won't get bored while I'm having fun. And ofcourse, once I'm back I'll show you everything from our holiday, and maybe I'll vlog a bit as well :)



Het plan
Aangezien mijn vriend en ik beide vliegen (hij als piloot en ik stewardess) hebben we het voordeel dat we erg goedkoop kunnen vliegen. Maar ook daar zitten nadelen aan; we kunnen alleen mee als er genoeg vrije plaatsen zijn. Als de vlucht vol is zullen we de volgende vlucht moeten pakken. In ieder geval was ons originele plan om richting Kuala Lumpur te vliegen maar helaas is die vlucht al helemaal vol, daarom hebben we onze hoop nu gevestigd op Bangkok, vanuit waar we direct zullen doorvliegen naar Vientiane (Laos). In Vientiane blijven we een korte nacht om bij te komen van de lange reis, om de volgende dag door te reizen naar Vang Vieng (Laos). Daar zullen we twee nachten verblijven. Na Vang Vieng gaan we door naar Luang Prabang, waar we onszelf een week denken te vermaken. We kijken beide erg uit naar Luang Prabang, het lijkt ons echt te gek. Na een weekje in Laos zullen we vliegen naar Siem Reap, Cambodja waar we ongeveer 3 tot 4 nachten zullen verblijven. Vervolgens pakken we de bus en boot om Thailand weer in te komen en gaan we afchillen op het prachtige eiland koh Chang, voordat we terugvliegen naar Nederland.

Tips
Aangezien we beide nu wat backpack ervaring hebben leek het me leuk wat tips met jullie te delen. We zijn echt verliefd geworden op Zuid Oost Azie mede dankzij onze reis vorig jaar waarbij we heel Thailand hebben doorkruist. Een ding die ik echt kan aanraden is om je blikveld te verbreden en je te interesseren voor de -Thaise- cultuur en mensen. Boek niet de standaard grote hotels maar kijk juist naar de kleinschalige hotels gerund door de lokale mensen. Wij hebben nog nooit een dag in een groot hotel gezeten en hebben echt de tijd van ons leven gehad met alle tourtjes die we ook hadden gedaan. Een tip die ik jullie wil meegeven wanneer je gaat backpacken in Zuid Oost Azie is om eens te kijken op de site van Withlocals. Via die site kan je een tour/activiteit of kookcursus doen met een lokaal iemand, om zo de ECHTE cultuur te proeven ipv alleen maar de toeristische dingen te doen. Overigens wil ik jullie ook aanraden om eens te eten bij de marktkraampjes of bij de restaurantjes met de goedkope plastic stoeltjes; je zou er misschien niet direct naartoe getrokken worden maar vaak koken zij het heerlijkste -goedkoopste- eten. Zorg er natuurlijk wel voor dat je alles doorbakken neemt ;)

Voor wat betreft het plannen en vastleggen van onze vakantie; dat doen we niet. We hebben de vlucht een soort van vast staan maar daarna is alles open. We hebben in ons hoofd wel een plan maar door flexibel te blijven en alles open te houden kunnen we het op het laatste moment nog aanpassen. We zorgen er wel voor dat we in hotels zitten met WIFI zodat we elke keer onze volgende hotel vanuit onze kamer kunnen boeken. Ik neem dan ook mijn mini laptop mee.

Volg ons
Zoals ik al zei zal ik de drie weken dat ik op vakantie ben niet bloggen, maar er komen wel elke 2 dagen nieuwe posts online die ik van te voren heb gemaakt. Uiteraard zal ik na mijn vakantie alles met jullie delen. In de tussentijd kunnen jullie me volgen op instagram (shalane89)



The plan
Since we're both airline crew (I'm a flight attendant and he's a pilot) we can fly really cheap all over the world. One thing though is that there need to be seats available. We'll get the very last seats in the plane or, if the flight is full, we have to wait for the next flight. Anyway, we originally planned to fly to Kuala Lumpur, but that flight was completely full. Now our hopes are on Bangkok, from where we'll directly fly to Vientiane (Laos). We're going to stay for one short night in Vientiane to get some rest before we take the bus to Vang Vieng (Laos), where we'll be staying for two nights. After Vang Vieng we're going to Luang Prabang for week. We're both really looking forward to this little village. After a couple of days we're going to take the plane and fly directly to Siem Reap in Cambodia, to see Ankor Watt. Our orignal plan is that we're going to stay in Cambodja for 3 or 4 nights. From Siem Reap we take the bus back to Thailand to end our holiday on the beaches of Koh Chang before we fly back to Amsterdam.

Tips
We already have a little bit of backpacking experience and we both are madly in love with South East Asia. Last year we had the time of our lives while exploring Thailand from the north to the south. One thing I can truly recommend is to open your eyes for the culture and the -thai- or asian people who live there. Don't make your way to the 'big and wellknown' hotels but look beyond that and find something cute and beautiful while discovering the true Thai. We both never stayed in big hotels and did a lot of trips. One thing I love is 'Withlocals', where you can book your tour/cooking class/activity actually WITH the local peeps. A true asian experience, which is a must if you're backpacking! Also, don't go for the well known restaurants but try something asian instead. Usually the market stalls and the restaurants with cheap plastic tables are pretty good too, and worth trying! Do get yourself something well done though, don't take something which is not cooked properly.

The only thing we plan in advance is our flight, but that is also a thing which can change last minute. We make sure that every hotel/hostel we stay in has WIFI so we can book our next hotel from our hotel room. I'm taking my mini laptop with me ofcourse. I would suggest to not plan too many things in advance, even your hotels, because you know, maybe you'll really like it somewhere, it would be really stupid if you MUST go because you already booked a ticket for the plane.

Follow us
So yeah, I won't be blogging for three weeks but you'll see a new post once every two days. But if you want to see us while we're enjoying our holiday, don't forget to check out my instagram account (@shalane89). And after our holiday I'll show you everything, pinkypromise!